May
8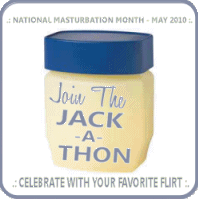 Hey guys! If you've ever had the pleasure of stroking your cock for me you know that I'm totally obsessed with hand job phone sex, mutual masturbation, guided masturbation, and making you jerk off for me in general. So is it any surprise that I'm taking the opportunity to celebrate National Masturbation Month here on my hand job phone sex blog?
Now I know my stroker boys don't need any excuse to jerk off for me but I'm thinking — why not have a little extra fun?  I'm going to be posting some good stuff for you here throughout the month and I'm going to kick off the celebrations today with this hot hand job phone sex recording…
This is my jerk off recording. It's for anyone out there that loves to jerk off and can't get enough and I know at least a couple of guys out there that fit that description, LOL. Maybe you've just got a daily habit or maybe you're a total stroke addict. Either way, this recording is here when you don't just want to stroke your cock, you want to stroke it while a sexy girl tells you how to do it. This is straight-up guided masturbation.
This recording is available as an mp3 file. The sound is great and you can listen to it over and over again. It's $10 and 5 minutes long.

-Jordan
1-800-TO-FLIRT
extension 026-803-01
Sep
23
Some guys believe that women don't think about sex but it's not true. Not for me, anyway. I can't stop thinking about sex LOL and that's pretty much why I started with my phone sex line. The thing is, at any given moment, there's pretty much nothing I'd rather be doing than getting off and getting you off even if you're some guy that I've never met. Actually, that kind of makes it even hotter.
Knowing that you're stroking your cock to my pictures and my instructions and listening to you come so hard from mind-blowing phone sex gets me so hot and you'll hear it in my voice as you drain your balls imagining my hand or my pussy wrapped around your stiff dick.
So what are you waiting for? Get your dick out of your pants and in your hand. I want to tell you all the ways that I'm going to make you come when you call for some hot girl-next-door phone sex.
-Jordan
1-800-TO-FLIRT
extension 026-803-01
Apr
24
Hey guys! My girlfriend just called and canceled our plans to hang out tonight so I'm staying in but that doesn't mean I can't have some fun, right? I'm going to be signed-in to NiteFlirt tonight and most of the weekend because there's really nothing that I'd rather be doing than getting you off and making you CUM.
I'll let you in on one of my naughty little secrets: My pussy gets a little wet when my phone rings and I see on my caller ID that it's NiteFlirt calling. I know that when I pick up the phone I'm going to make you jerk off and ultimately, I'm going to make sure you get off. I love knowing that while you're stroking your cock your probably looking at my sexy pics or videos and that the sound of my voice is all it takes to push you right over the edge. Getting you off really gets me off!
So call me this weekend and let me make you CUM!
-Jordan
1-800-TO-FLIRT
extension 026-803-01
Dec
6
Hey guys!  I was looking around NiteFlirt last night and let me tell you, there are a lot of really sexy phone sex girls there but I noticed  that everyone's got a lot of bell and whistles, so to speak, LOL.  I guess that's just not my style. I mean, I like to get kinky and creative and there's really not much that I won't do to get you off but in some ways I'm just a traditional girl. I love sucking cock and having my pussy slammed more than anything and I love to talk about it.  It's what I call classic suck and fuck phone sex.
Getting down on my knees and sucking cock makes my pussy wet and ready to fuck.  I want to know just how you want to fuck me and I can't wait to talk with you about all the ways we could get naughty together. Let's get down and dirty together. I want to make you CUM!
–Jordan
1-800-TO-FLIRT
extension 026-803-01
Dec
1
Hey guys!  I want to get down and dirty today. I've been thinking about sucking cock all weekend long and I bet there are a few of you out there in the same situation  🙂  I'd love to get on my knees and take your cock in my hand and stroke it to get it hard while I massage your balls.  All that's just foreplay though because really I just can't wait to have your cock in my mouth, the head of it sliding right down my throat…
I'm in the mood for a nasty, sloppy blow job. I'll get raunchy and rude and you can use my hot wet mouth however you want.  I can't wait to taste your hot cum and you can drop your load wherever you want.   Get your cock in your hand and call so I can get dirty for you.
–Jordan
1-800-TO-FLIRT
extension 026-803-01