May
8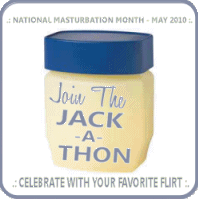 Hey guys! If you've ever had the pleasure of stroking your cock for me you know that I'm totally obsessed with hand job phone sex, mutual masturbation, guided masturbation, and making you jerk off for me in general. So is it any surprise that I'm taking the opportunity to celebrate National Masturbation Month here on my hand job phone sex blog?
Now I know my stroker boys don't need any excuse to jerk off for me but I'm thinking — why not have a little extra fun?  I'm going to be posting some good stuff for you here throughout the month and I'm going to kick off the celebrations today with this hot hand job phone sex recording…
This is my jerk off recording. It's for anyone out there that loves to jerk off and can't get enough and I know at least a couple of guys out there that fit that description, LOL. Maybe you've just got a daily habit or maybe you're a total stroke addict. Either way, this recording is here when you don't just want to stroke your cock, you want to stroke it while a sexy girl tells you how to do it. This is straight-up guided masturbation.
This recording is available as an mp3 file. The sound is great and you can listen to it over and over again. It's $10 and 5 minutes long.

-Jordan
1-800-TO-FLIRT
extension 026-803-01
Comments